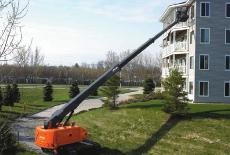 Major Metro Areas
Atlanta, GA
Augusta, GA
Boston, MA
Chicago, IL
Cincinnati, OH
Dallas, TX
Dayton, OH
Detroit, MI
Fresno, CA
Hartford, CT
Indianapolis, IN
Kansas City, MO
Aerial Lift Safety
There are many dangers when operating aerial lift equipment. Almost 50% of the fatalities involve boom-supported lifts, such as bucket trucks and cherry pickers. To ensure that you and your employees are safe you should always check the emergency systems and fall-protection gear of your equipment.
To Consider Before Buying
Weigh the benefits of purchasing a new cherry picker or man lift versus a used one. New ones can cost you more initially but make up for the cost in maintenance savings. Conversely, properly serviced used lifts can have just as much longevity as a new machine but cost significantly less.
Ensure that your prospective lift has not been modified in any way other than suggested by the manufacturer.
Check service records to ensure all recommended services have been met. This can seriously increase the useable life of a machine.
Importance of Training
Only operators who have received professional instructions regarding the inspection and application of an aerial lift should be allowed to operate one. Classes and training seminars are available locally so ensure that you or your employees utilize them to stay informed of the latest operational and safety methods.